HAIRY TEASE PRODUCTIONS was formed in 2004 when retired Harrison Trimble High School Drama teacher Michael Granville decided that Greater Moncton was long overdue for a local community theatre company. Having always preferred the comedy genre, he resolved that the mission of HAIRY TEASE would be simply to make audiences laugh. Period.
Recruiting a motley crew of former Trimble and Moncton High students, along with a couple of Dist. 02 teachers and a local business man, Granville chose the comedy SEND ME NO FLOWERS to be presented on the miniscule stage at the Moncton Lions Community Centre. With a portion of the profits going to the HTHS auditorium upgrade, the premiere Hairy Tease show was a resounding success and two more comedies followed, THE NERD and LOVE, SEX AND THE IRS, each one leaving audiences well- entertained. Once again portions of the profits were donated to local worthy causes.
When HAIRY TEASE was invited to produce their fourth show at théâtre l'Escaouette in March '06, the company was truly excited. As a state of the art black box performance space, l'Escaouette's 200 seat theatre allowed the construction of a "real" set, complete with a functional trap door and unlimited backstage space, something HAIRY TEASE had never had in the past. THE FOREIGNER was a tremendous hit, selling out every seat on the last two nights of its four night run and allowing the donation of $1000 to the Matthew Kinnie Fund.
The next Hairy Tease show in Oct. '06, another VanZandt-Milmore farce, PLAYING DOCTOR, sold out three out of four nights, with money this time going to Greater Moncton Youth Residences.
Then came Henry Denker's romantic comedy, THE SECOND TIME AROUND, in March '07, with a $2,000 donation being made to Greater Moncton Hospice, bringing the total $$ donated to local causes to a total of $9,500.
In October '07, the Canadian farce, WHO'S UNDER WHERE? by Marcia Kash and Doug Hughes, proved to be maybe the funniest and certainly most financially successful up to that point, generating the first $2,000 towards two HAIRY TEASE PRODUCTIONS' Theatre Arts Bursaries, to be awarded for the first time in June '08.
NEVER TOO LATE, the '60's Broadway comedy by Sumner Arthur Long, was presented to sold-out audiences in April, 2008. Profits from this show contributed to the second $2,000 towards the Hairy Tease Productions Theatre Arts Bursaries, which were presented in June to the winning candidates, Alex Vass and Scott Lloyd, who are now continuing their theatre careers at the post-secondary level.
In November 08, we had a most successful run of Neil Simon's RUMORS. In January 09, we produced MIRTH & MELANCHOLY, a mélange of one-acts which consisted of 7 short plays, both comic and dramatic.
PAJAMA TOPS by Mawby Green & Ed Fieldbert was a big hit with capacity audiences in April '09 and completed the $4,000 contribution needed for the 2nd annual HTP Theatre Arts Bursaries awarded in June to two deserving local students continuing their post-secondary education in the theatre field. This year's recipients of the 3rd annual bursaries were Julian Murillo of Moncton High & Teagan O'Driscoll of Bernice MacNaughton High
THE MIND WITH THE DIRTY MAN by Jules Tasca was our comedy choice for November 09 and, once again, we had great response from theatre-goers in Greater Moncton
The success of our second annual run of one-acts, MIRTH & MELANCHOLY II, in January '10 proved that there is a demand for theatre during the long, cold winter months.
Spring came in like lion with the uproarious '80's comedy, BATHROOM HUMOR, by William Van Zandt & Jane Milmore in March '10.
Up next in Oct. '10 was Norm Foster's golf comedy THE FOURSOME, the 1st HTP show to feature only 4 actors and, according to many audience members, "the funniest one yet!" This was followed in Jan. '11 by the 3rd edition of MIRTH & MELANCHOLY, this time featuring 18 actors in 9 one-acts.
A. R. Gurney's wonderful SYLVIA was our Spring '11 offering (and our 2nd consecutive 4-actor show), with the classic farce NO SEX PLEASE, WE'RE BRITISH playing to sold-out audiences in Nov. '11.
MIRTH & MELANCHOLY #4, with 8 one-acts and 2 monologues featuring 19 HTP actors, was presented to enthusiastic audiences in Jan. '12 and was followed by WEEKEND COMEDY in March of 2012.
In November '12 we had a great time with Norm Foster's MAGGIE'S GETTING MARRIED which was then followed up in March '13 by NURSE JANE GOES TO HAWAII by Allan Stratton.
November '13 saw Caroline Smith's THE KITCHEN WITCHES cast a spell over our audience. We helped shake off the late winter blues with Norm Foster's SKIN FLICK in at the end of March. In November, we will continue our run of Canadian plays with Norm Foster's BEDTIME STORIES.
HTP's subsequent shows have all been tremendously successful and we continue to do our best to make Moncton laugh!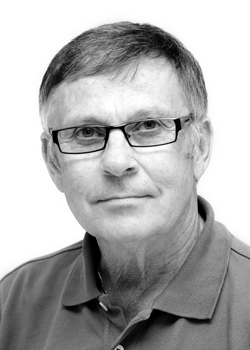 Michael Granville, Director